I was invited by Cathy Elton of
What Would Cathy Eat?
to participate in her
Healthy Thanksgiving Challenge
. I first found Cathy's blog earlier in the year, after I'd been diagnosed with high cholesterol and was frantically looking for heart-healthy recipes. There are some totally delicious recipes on her blog - I definitely recommend checking it out. I may even be making her
Caramelized Onion Tart with Greens and Cashew Cream
to bring to my in-laws for Thanksgiving!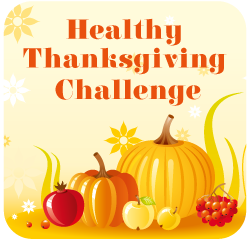 As my family has learned over the past several years, dealing with my dad's heart condition (and now my cholesterol), making a fantastic, healthy holiday meal isn't as difficult as it sounds. Of course you should treat yourself - no Thanksgiving table is complete without pie - but you don't have to make
every
dish a special (read: diet-busting) treat.
Fall vegetables should be at the center of every holiday meal. Sweet potatoes, winter squash, cauliflower, kale and Brussels sprouts are some of my favorite things and all quite delicious without much adornment. Naturally, I had a very difficult time deciding what to make for this challenge. How could I choose? What ultimately happened was my CSA chose for me. Last Friday, part of my last farm share of the season was a bunch of gorgeous baby carrots - adorable, delicious and photogenic. This was the inspiration I was looking for. They brought to mind this recipe I'd pulled out of
Better Homes and Gardens
back in April. While this recipe was meant to grace an Easter table, it will do just as well for Thanksgiving.
The carrots are soft and delicious, the honey-curry glaze sweet and savory all at once, and the yogurt sauce adds a creamy finish. Jeff and I sat down and nearly finished off the platter by ourselves (of course, they'll go farther at a Thanksgiving table with several other side dishes - the original recipe claims it serves 8-10). I just hope I can get my hands on some more of these sweet babies to make for my own Thanksgiving dinner!
Sweet Curry Carrots with Yogurt Sauce
Better Homes and Gardens April 2012
1-1 1/2 lbs
baby carrots
(the tops should be trimmed down but still on)
1 tbsp olive oil
1/2 tsp salt, divided
3 tbsp honey
1 tbsp curry powder
(a heaping tablespoon, if you know what's good for you!)
2/3 c plain fat free Greek yogurt
1/4 c thinly sliced green onions
(darker green ends only - reserve the white parts for something else)
Preheat oven to 425° F. Line a baking sheet with aluminum foil. Spread the carrots on the baking sheet, drizzle with oil and sprinkle with 1/4 tsp salt. Roll the carrots around with your hands to coat them in oil. Roast for 15 minutes.
Meanwhile, put the honey in a microwaveable bowl and heat for about 30 seconds, until nice and runny. Whisk in the curry powder. When the carrots are done, remove the tray from the oven and drizzle with the honey. Roll the carrots around in it to coat. Return to the oven for 10 minutes, until all the carrots are tender.
While the carrots finish roasting, combine the yogurt, green onions and remaining 1/4 tsp salt in a bowl. Serve alongside carrots for dipping.